This product is not recommended for new design!
OMAP3530 and OMAP3525 high-performance, applications processors are based on the enhanced OMAP™ 3 architecture. The OMAP™ 3 architecture is designed to provide best-in-class video, image, and graphics processing sufficient to support the following:
Streaming video
3D mobile gaming
Video conferencing
High-resolution still image
The device supports high-level operating systems (OSs), such as:
Linux
Android
Windows CE
QNX
This OMAP device includes state-of-the-art power-management techniques required for high-performance mobile products.
The following subsystems are part of the device:
Microprocessor unit (MPU) subsystem based on the ARM Cortex™-A8 microprocessor
IVA2.2 subsystem with a C64x+ digital signal processor (DSP) core
POWER SGX™ subsystem for 3D graphics acceleration to support display and gaming effects (3530 only)
Camera image signal processor (ISP) that supports multiple formats and interfacing options connected to a wide variety of image sensors
Display subsystem with a wide variety of features for multiple concurrent image manipulation, and a programmable interface supporting a wide variety of displays. The display subsystem also supports NTSC/PAL video out.
Level 3 (L3) and level 4 (L4) interconnects that provide high-bandwidth data transfers for multiple initiators to the internal and external memory controllers and to on-chip peripherals
The device also offers:
A comprehensive power and clock-management scheme that enables high-performance, low-power operation, and ultralow-power standby features. The device also supports SmartReflex™ adaptative voltage control. This power management technique for automatic control of the operating voltage of a module reduces the active power consumption.
Processors:
DaVinciTM OMAP3530 Cortex-A8+DSP+3D
DaVinciTM OMAP3525 Cortex-A8+DSP
SitaraTM OMAP3515 Cortex-A8+3D
SitaraTM OMAP3503 Cortex-A8
Configuration:
DDR 256MB
NAND SLC 128MB-1GB
Commercial temperature: 0°С..+85°С
Extended temperature: -25°С..+85°С
Industrial temperature: -40°С..+85°С
Processors
OMAP3530 Cortex-A8 600MHz + DSP + 3D
OMAP3525 Cortex-A8 600MHz + DSP
OMAP3515 Cortex-A8 600MHz + 3D
OMAP3503 Cortex-A8 600MHz
Memory
mobile-DDR 128MB / 256MB
NAND SLC 128MB-1GB
EEPROM 1024B + 48bit EUI-48™
Intercconects
USB 2.0 High-speed On-the-Go
USB 2.0 high-speed host
3x UART Rx/Tx+CTS/RTS
2x I2C
McSPI1
Graphics
Video input port from CCD/CMOS
PowerVR SGX530 2D/3D graphics engine
24bit TFT-LCD (WXGA)
OpenGL 1.1/2.0 and OpenVG 1.0 (DM3730/AM3715)
Extentions
SRAM, NOR, NAND, FRAM
2x SD/MMC
McBSP1 / McBSP3
CMOS/CCD 8/12 bits
Ethernet
Physical Layer 10/100Base-T
Speed 10/100 Mbps, HP Auto MDIX
MAC globally unique
Electrical
Main power: 5VDC +/-10%
Power for UART3 and Ethernet: 3.3VDC +/-10%
Current 5V: 200mA typical
Current 3.3V: max 85mA (Ethernet TX/RX full)
Dimensions
Length: 43mm
Width: 67.7mm
Thickness (max): 5.2mm
Working temperature
Extended temperature: -25°С..+85°С
Industrial temperature: -40°С..+85°С
Storage temperature
OS support
Please fill in the following form to get prices for your configuration and quantity: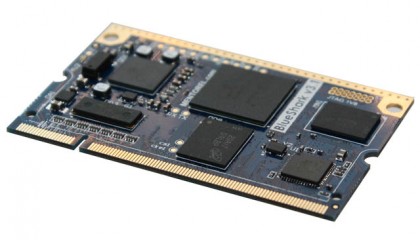 OMAP3530 600MHz
DSP 520MHz
2D/3D graphics engine
Performance Ethernet
-40 +85°С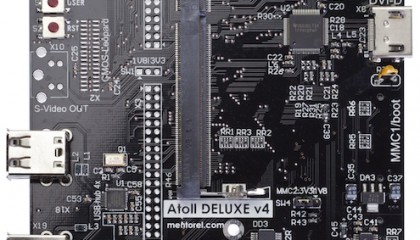 BlueShark Baseboard
BlueShark connector
HDMI (DVI-D) + LCD 24bit
4x USB-host + USB OTG
Stereo OUT +Mic
Ethernet + extensions
Why MENTOREL Products?
They cut costs
They eliminate risks
You focus on your business
You get profits faster than competitors