SomIQ-AM35 benefits:
SomIQ-AM35 modules offer a wide range of industrial interfaces including Hi-End CAN controller.
SomIQ modules are designed to increase reliability and MTBF because because they get heating less. Less heating means lower aging of components on modules. Modules are made on the strengthened printed-circuit boards with 1 oz copper thickness.
SomIQ modules are pin-to-pin compatible throughout the family with minor differences because of different processor features.
AM3517/05 is a high-performance ARM Cortex-A8 microprocessor with speeds up to 600 MHz. The device offers 3D graphics acceleration while also supporting numerous peripherals, including DDR2, CAN, EMAC, and USB OTG PHY that are well suited for industrial applications.
The processor can support other applications, including:
Single Board Computers
Industrial and Home Automation
Digital Signage
Point of Service
Portable Media Player
Portable Industrial
Transportation
Navigation
Smart White Goods
Digital TV
Digital Video Camera
Gaming
The device supports high-level operating systems (OSs), such as:
Linux
Windows CE
Android™
QNX
The following subsystems are part of the device:
Microprocessor unit (MPU) subsystem based on the ARM Cortex-A8 microprocessor
POWERVR SGX™ Graphics Accelerator (AM3517 Device only) Subsystem for 3D graphics acceleration to support display and gaming effects (AM3517 Device only)
Display subsystem with several features for multiple concurrent image manipulation, and a programmable interface supporting a wide variety of displays. The display subsystem also supports NTSC/PAL video out.
High performance interconnects provide high-bandwidth data transfers for multiple initiators to the internal and external memory controllers and to on-chip peripherals. The device also offers a comprehensive clock-management scheme.
Processors
AM3517 Cortex-A8 600MHz + 3D
AM3505 Cortex-A8 600MHz
Memory
DDR2 128MB / 256MB (typical) / 512MB
NAND 128MB-1GB
EEPROM 1024 Bytes + 48bit EUI-48™
Interconnect
USB 2.0 High-speed On-the-Go
USB 2.0 high-speed host
4x UART Rx/Tx+CTS/RTS
CAN 2.0B
3x I2C
2x SPI
Ethernet 10/100 (upto 7MB/sec)
Graphics
Video input port from CCD/CMOS
PowerVR SGX530 – 2D/3D graphics engine (AM3517 only)
LCD controller for TFT 24bit
OpenGL 1.1/2.0 and OpenVG 1.0 (AM3517 only)
Ethernet
Physical Layer 10/100Base-T
Speed 10/100 Mbps, HP Auto MDIX
MAC globally unique
Extension
SRAM, NOR, NAND, FRAM
2x SD/MMC
4x McBSP
CCD/CMOS
Dimensions
Length: 60mm
Width: 50mm
From bottom to top: 6.5mm (min)
WORKING TEMPERATURE
Extended: -25°С..+70°С
Industrial: -40°С..+85°С
OS support
Embedded Linux
Android (soon)
QNX
Window CE (planed)
Reference Manuals:
Baseboard Datasheet:
Baseboard Schematics:
Please fill in the following form to get prices for your configuration and quantity: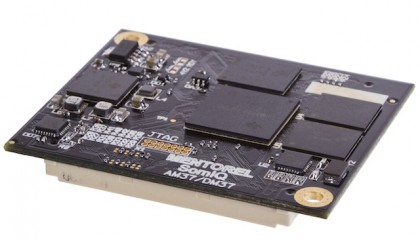 DM3730 1000MHz
DSP 800MHz
2D/3D graphics engine
DDR 512MB!
-40 +85°С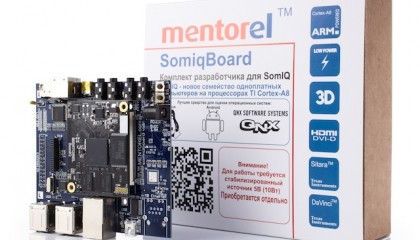 SomIQ Baseboard
SomIQ connectors
HDMI (DVI-D) + LCD 24bit
4x USB-host + USB OTG
Audio In/Out, Stereo+Mic
Ethernet + extensions
Why MENTOREL Products?
They cut costs
They eliminate risks
You focus on your business
You get profits faster than competitors