SomIQ-AM37 is a high-performance system on module based on TI DM3730/25 DaVinci or AM3715/03 Sitara application processors.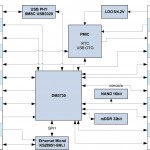 The Texas Instruments DM37x generation of high-performance, applications processors are based on the enhanced device architecture. This architecture is designed to provide best in class ARM and Graphics performance while delivering low power consumption. This balance of performance and power allow the device to support the following example applications:
Portable Data Terminals
Navigation
Auto Infotainment
Gaming
Medical Imaging
Home Automation
Human Interface
Industrial Control
Test and Measurement
Single board Computers
The device can support numerous high-level operating systems and real-time operating system solutions including Linux, Android and Windows Embedded CE.
Configuration:
DDR 128 / 256 / 512 megabytes
NAND SLC 128MB-1GB
Extended temperature: -25°С..+85°С
Industrial temperature: -40°С..+85°С
SomIQ benefits:
SomIQ modules are designed to increase reliability and MTBF because because they get heating less. Less heating means lower aging of components on modules. Modules are made on the strengthened printed-circuit boards with 1 oz copper thickness.
SomIQ modules are pin-to-pin compatible throughout the family with minor differences because of different processor features.
DSP
Processors DM3730 and DM3725 offer the high-performance Texas Instruments image video and audio accelerator (IVA2.2), based on the TMS320DMC64X+ VLIW digital signal processor (DSP) core. This fixed point DSP can handle upto eihgt 32-bit instructions per cycle optimizing the performance and power consumption. DSP supports 260, 520, 660 and 800-MHz operation with dynamic frequency scaling. To accelerate software development Texas Instruments offers ready to use libraries to support video codecs: H.264-BP, H.264-MP/HP, JPEG, MPEG2-MP, MPEG4-SP, VC1; audio-codecs: AAC-HE, AAC-LC, G.711, MP3, WMA.
2D/3D graphics accelerator
The 2D/3D graphics accelerator (SGX) subsystem accelerates 2-dimensional (2D) and 3-dimensional (3D) graphics applications. The SGX subsystem is based on the POWERVR SGX core from Imagination Technologies. SGX is a new generation of programmable POWERVR graphic cores. The POWERVR SGX530 architecture is scalable and can target all market segments from mainstream mobile devices to high-end desktop graphics. Targeted applications include feature phone, PDA, and hand-held games.
Processor
DM3730 Cortex-A8 1000MHz (800MHz) + DSP + 3D
DM3725 Cortex-A8 1000MHz (800MHz) + DSP
AM3715 Cortex-A8 1000MHz (800MHz) + 3D
AM3703 Cortex-A8 1000MHz (800MHz)
Memory
mobile-DDR 128MB / 256MB / 512MB
NAND SLC 128MB/256MB/512MB/1GB
EEPROM 1024B + 48bit EUI-48™
Interconnects
USB 2.0 High-speed On-the-Go
USB 2.0 high-speed host
3x UART Rx/Tx+CTS/RTS
4x I2C
2x SPI
10 / 100 Mbps Ethernet (upto 1.25MB/sec)
Graphics
Video input port from CCD/CMOS
PowerVR SGX530 2D/3D graphics engine
24bit TFT-LCD (WXGA)
OpenGL 1.1/2.0 and OpenVG 1.0 (DM3730/AM3715)
Extensions
SRAM, NOR, NAND, FRAM
2x SD/MMC
4x McBSP
CCD/CMOS
Ethernet
Physical Layer 10/100Base-T
Speed 10/100 Mbps, HP Auto MDIX
MAC globally unique
Dimensions
Length: 60mm
Width: 50mm
Height: 6.5mm (min)
Working temperature
Extended temperature: -25°С..+85°С
Industrial temperature: -40°С..+85°С
Storage temperature
OS support
Embedded Linux
Android 4.0.3
Window CE (planned)
QNX (planned)
Please fill in the following form to get prices for your configuration and quantity: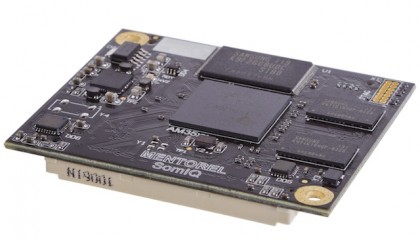 AM3517 600MHz
2D/3D graphics engine
Performance Ethernet
CAN 2.0B
-40 +85°С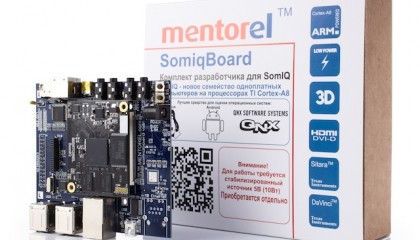 SomIQ Baseboard
SomIQ connectors
HDMI (DVI-D) + LCD 24bit
4x USB-host + USB OTG
Audio In/Out, Stereo+Mic
Ethernet + extensions
Why MENTOREL Products?
They cut costs
They eliminate risks
You focus on your business
You get profits faster than competitors
SomIQ-AM37 Android 4.0.3 ICS