Somiqboard is Beagleboard compatible platform designed to carry new System on Module family SomIQ. The board features industry standard interfaces like High-Speed USB 2.0, USB-OTG, HDMI (DVI-D), SD/MMC, LCD-TFT signals as well as an audio codec with sound capture and stereo in/out, S-Video output and CCD extension connector for Leopard Imagine camera modules.
To enable third party accessories compatible with Beagleboard-XM or Pandaboard we added three expansion connectors (IO and LCD) which are 100% compatible in electrical and mechanical parameters with Beagleboard-XM or Pandaboard if you use the SomIQ-AM37 module.
Compatible products from global suppliers:
Power supplies
P1 – 5VDC, 2-3A
B1 – RTC battery (not populated)
SomIQ connectors
Video output
P10 – HDMI (DVI-D only)

P13 – Composite and S-Video output

P11/P12 – 24 bit LCD signals (Beagleboard-xM compatible)
USB
P4 – USB OTG (MiniUSB-AB)

Device Mode by default

Host mode. Special cable is needed to pull down the ID line or a resistor R100 soldering is necessary (0 Ohm).

P2 – USB-serial by FT232RL, MiniUSB-B connector
P6/P5 – dual USB-A (USB-Host x4 chip is on board)
Audio
P14 – Stereo Line IN
P15 – Mono Mic IN
P16 – Stereo Out 0.5 Watt
P17 – Stereo Line Out
Network
P7 – Ethernet 10/100 from the SomIQ controller
P8 – Onboard Ethernet 10/100 by LAN9221 (not populated in rev.2)
CCD
GPIO extensions
P9 – Beagleboard compatible connector: MCBSP1/3, MMC2, I2C2
Boot
P3 – MicroSD card connector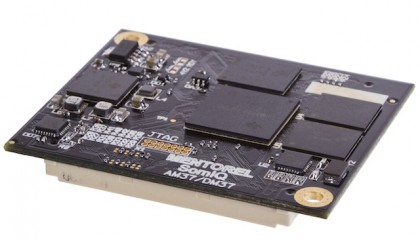 DM3730 1000MHz
DSP 800MHz
2D/3D graphics engine
DDR 512MB!
-40 +85°С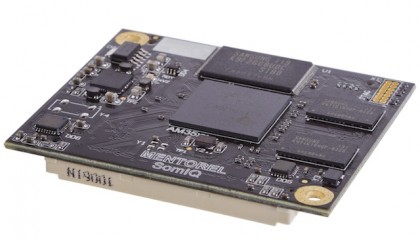 AM3517 600MHz
2D/3D graphics engine
Performance Ethernet
CAN 2.0B
-40 +85°С
Why MENTOREL Products?
They cut costs
They eliminate risks
You focus on your business
You get profits faster than competitors