Atoll-Deluxe a complete development kit for evaluation OMAP3 architecture and BlueShark modules (both versions v3 and v4). It can be used as a single board computer or for applications development. It helps engineers prototype fast and test software solutions.
The Development Kit has all necessary connectors for all kinds of USB devices, HDMI/DVI display, industrial TFT and LVDS displays, as well as custom extension modules through 2.54mm sockets.
Atoll Deluxe Block Diagram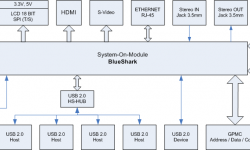 Click to enlarge
Atoll Deluxe Design
The Atoll Deluxe schematic is cloned from the BeagleBoard design with minor changes. You can use this platform with BlueShark module installed as an alternative to the classic BeagleBoard. The benefits of the Atoll Deluxe with BlueShark in comparison to BeagleBoard is that BlueShark at first gives an integrated Ethernet controller which is missing at BeagleBoard, at second – you can use the BlueShark module in your own design running applications debugged on the Atoll Deluxe platform.
For complete Hardware project and Software demo please refer to the wiki page: Atoll Deluxe Hardware and Software files
SODIMM 200 connector for a BlueShark module
USB-serial for debugging
double-row 2mm connector for OEM LCDs (TFT/LVDS)
HDMI (DVI-D)
RJ45 connector for the BlueShark Ethernet controller
Stereo OUT
MIC in
SD/MMC1 (push-push)
SD/MMC2 (push-push)
S-Video/Composite out
USB OTG
4x USB-Host (USB-hub is onboard)
Full set of signals for GPMC is on 2.54mm connector
34-pin connector for Leopard Imaging camera modules
MCBSP1 is on a connector
I2C is on a connector
UART1/UART2 are on a connector
The Atoll Deluxe kit includes:
USB 2.0 A->mini-B 5P cable for debugging
Boot SD card with demo OS installation
HDMI cable (on request)
Ethernet cable
5VDC wall adapter with EU connector (on request)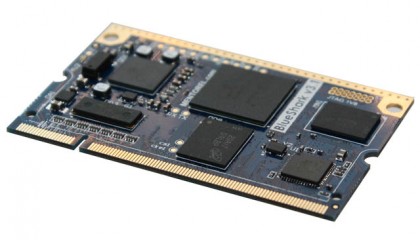 OMAP3530 600MHz
DSP 520MHz
2D/3D graphics engine
Performance Ethernet
-40 +85°С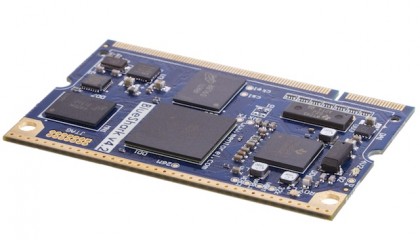 OMAP3530 600MHz
DSP 520MHz
2D/3D graphics engine
Low-power
-40 +85°С
Why MENTOREL Products?
They cut costs
They eliminate risks
You focus on your business
You get profits faster than competitors